Merry Christmas, 11 by ~@Himmapaan on deviantART
Merry Christmas, 11 by ~Himmapaan on deviantART.
This has to be one of the most incredible pieces of palaeo-art, or even art I've ever laid my eyes upon!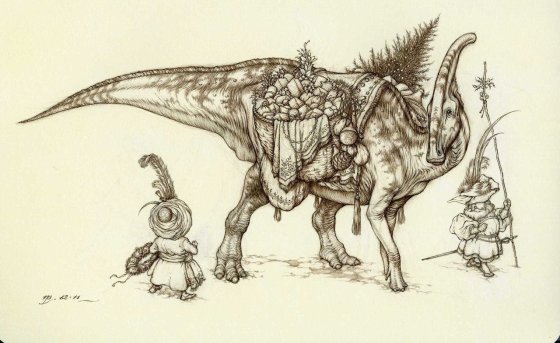 The image depicts what I presume is Parasaurolophus walkeri, infamously referred to as "Elvis" by Roland Tembo (the late Pete Postlethwaite) in Jurassic Park: The Lost World, a name coined by the bizarre head-gear this particular hadrosaur possessed.
As well as being an excellent image, it also appears quite anatomically correct: the derived tridactyl pes, a quadrupedal stance, heavy caudo-femoralis musculature, and er, two lateral bags of fruit and veg..
The two little dwarf-men things are the less well-known sympatric fossils also from the Dinosaur Park Formation – palaeontologists just don't want anyone to know yet, as it blows current estimates for the origins of humans out of the water. This may or may not be true.
I'm certainly going to be requesting a copy of this, and perhaps some more of his fantastic work (also definitely worth checking out!). Raw talent.